Founded by Matt Ross in September of 2012 "one river" west of New York City, One River School of Art + Design has embarked on a mission to transform art education in America. Today, our innovative program teaches thousands of students in twelve schools across six states.
We have developed a unique method for teaching art and digital design classes to people of all ages. Very simply, our students have more fun, learn faster and create more compelling creative outcomes at One River School.
Teachers at One River are carefully screened so that our students are provided with the right amount of technical support and individualized attention. Our research shows that when people are learning new creative concepts, it is important to have a teacher who instills trust and also has the skills to provide an inspiring lesson.
One River School operates a state of the art facility that inspires people to attend. We have designed a space that is an inspirational backdrop and we provide all of the materials to make the experience as convenient as possible.
Our exhibition program has become a national taste-maker for emerging artists across the country. We present artwork from the contemporary art space in our school galleries which supports our mission to teach about contemporary art within our communities by providing regular opportunities to engage with compelling artwork.
Our expansion creates business ownership opportunities in the arts across America through our unique franchise program. In turn, this creates compelling career opportunities in the arts.
In 2011, Founder Matt Ross began research into art programs across the United States and a pattern emerged. In most metropolitan areas, there was a real shortage of compelling programs that were driven to provide and inspirational experience in a state of the art facility.
When Ross chose Englewood, NJ to open One River School, he felt convinced that the location would be the perfect one for a pilot school. Matt says: "New York seemed to be the art capital of the world but people who were just across the river almost never accessed the services in the city. I thought that Englewood, New Jersey would create a great proving ground, so we set in motion a process to create something that was truly inspiring and differententiated from everything in the marketplace".
To fulfill this mission, Matt developed a new method for teaching art that created the most compelling and fun art education experiences. Ross continues, "We created an interactive experience that is focused on current concepts. It celebrates the most important artists and themes of the last 50 years and we purpose-built a proprietary curriculum that has enabled us to deliver an experience that is changing people's lives."
Ross continues, "we have been building One River over seven years into the fastest growing arts business in the country. Today, we employ hundreds of professionals, teach thousands of students and are helping to define a new movement in America where people invest in their creative growth as a pathway for maximizing their happiness and their personal development".
Transform Art Education in America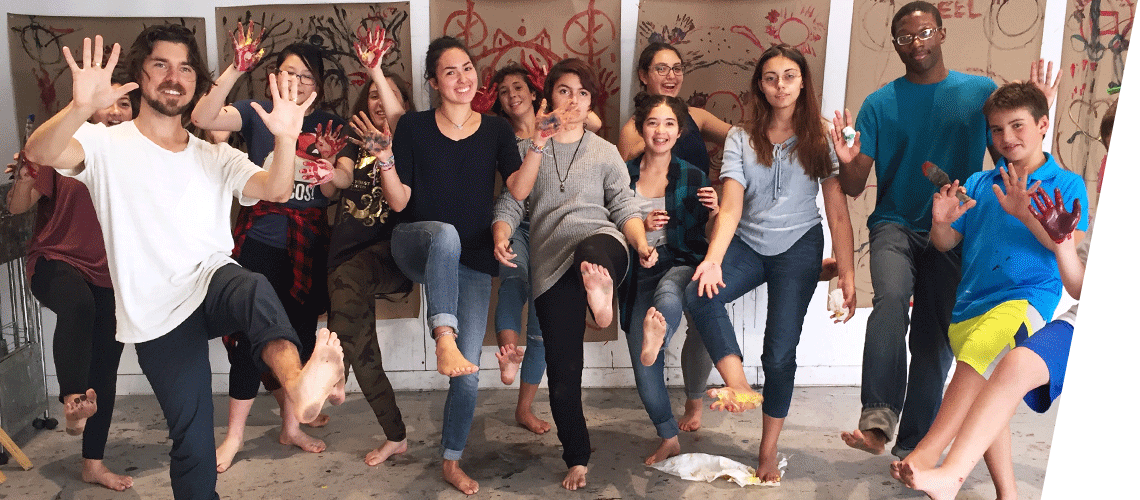 Deliver the Most Fun and Compelling Experience
Be the "Best Place to Work in the Arts"
Promote Business Ownership In the Arts
Become the Voice of Contemporary Art in Our Communities
Music and art seem to run together for a lot of people, and this is clearly the case for One River Founder and CEO Matt Ross. After 20 years as an executive in the radio industry, Matt became an investor and founding CEO for the School of Rock. At that time in 2005, School of Rock was a fledgling startup with a handful of schools. When Ross left School IN 2010, he had built School of Rock into the largest network of music schools in the world with 55 locations and 30 under development.
At that point, Ross compared the state of art education to the state of music education prior to the expansion of School of Rock. It appeared that the two were virtually the same: there were very few innovative art schools near his home in New Jersey and in suburbs across America. Thus began the start of a personal mission that has occupied Matt since the fall of 2011: "It seems to me that the most relevant and important thing I can do is to help people grow creatively. I love the challenge of inspiring people through compelling creative education while making it fun at the same time. This is my calling; it is my mission and it is the purpose of One River School."
In addition, Matt has embarked on a personal creative project: developing an important collection of contemporary art that currently features over 250 pieces. "When I was getting started with One River, it dawned on me that if I was going to teach people contemporary art I needed to jump in and self-educate beyond the classroom. Committing to building an art collection turned out to be the best way for me to develop a personal point of view around what art I thought was well done and potentially important. Almost all of the art that I own is from young artists; most often I support them before they have had a solo show in New York or when they are just starting to build distribution via galleries. This project has required me to obsessively study, visit studios, galleries, museums and art fairs around the world in search of art that challenges my senses. Along the way, I have been blessed to help change some artist's lives by providing measurable support, and I consider this to be one of the most important things I have done in my life."
When it comes to enjoying art, Ross has a unique perspective. "I believe that we see art through our eyes but we feel it physically in a different way. It is hard to describe, but when I am engaged with something that moves me, it creates a physical response that is much more than purely visual. It's like the feeling in your heart from a solid drum beat or guitar…those enter through your ears but the feeling you get is much deeper and more complex."